When I first decided to become a professional photographer, a good friend of mine, Maureen, or to her many fans, Malaya Blue, became one of my first commercial clients, asking me to do a photo shoot where the photos would be good to use to promote her move from pop singing to blues. The shoot was a huge success – mainly because she placed utter faith in my conviction that the newly fallen snow and sub zero temperatures would provide the best possible light studio! Some months later, Malaya had an album offer in hand, and she came to have her 2nd photo shoot at a special day of styled shoots for a variety of commercial clients. It was a photo from that occasion that went on to grace the cover her popular album, Bourbon Street – which in turn went on to achieve success, awards and recognition that today she still finds hard to believe is still happening.
She's currently touring in the UK but found time for to be my first celebrity interviewee for my blog! It's been such fun doing this that I've decided to do more in the future. I love seeing my clients succeed in their chosen work and seeing how my photographs play their part in the overall look of their brands!
I'm also getting lucky, because this afternoon I get to go and meet Malaya's two littlest and newest members of her family! Benjii and Molly! So watch out because tomorrow I might just add that extra little photo.
Thank you Malaya for taking the time for your interview – and I'm really looking forward to the next shoot and the second album that will no doubt be even more successful than your first!
Details and links on Malaya's music are at the bottom of the post.
This is a Sisterhood Circle post, so when you've finished, please click on Isabelle to go to the next blog in the circle!
*******
Boo: Congratulations! Since your last photo shoot your album has achieved
some amazing things! Would you tell us a bit about some of the ones you
are proudest of?
Malaya: Thank you the response has been immense and surprising! The album
has had so many amazing reviews! But I have to be honest; the two things I am
most proud of are: firstly, being awarded the IBBA award ( Independent British
Broadcasters Award) which is a real accolade, because they have thousands
of albums to choose from. The second has to be my nomination for Best British
Female Vocalist at the British Blues Awards, I didn't collect this year, but
watch this space!!
Boo: I love all the songs on your album – my particular favourite is Dawn. What do you think of
when you're singing that to inject the immense feeling into the song we hear?
Malaya: Dawn is a very personal song and when I sing it I go straight back to when I wrote
it. For me, all the songs are linked directly to my emotions. It's good to know that
comes forward.
Boo: The music industry places huge store in how people look – how do you
decide how to present yourself for a photo shoot? Eg, will that be how you
are feeling that particular day, or will you style yourself for a particular new
album cover or publicity event?
Malaya: I overthink my image almost to the point where I don't really know what it is
hahah! Fortunately the Blues industry is a little more forgiving than pop, in as
much as it focuses on the music and the artist and less on the product, although
you still need good product! But, if you are writing good songs they come first.
The Blues genre is like an enormous family, there is no competition. I have been
completely welcomed. Having said all that I think it is important to create a
signature style and a strong image helps to achieve that. I try to imagine that I am in a
record store and I am looking through albums and I am picking them on the level
of interest the cover shot creates. It's a good starting point.
Boo: What is most important to you when choosing a photographer?
Malaya: Creative license, mine not theirs, haha! I need to be able to feel that I can attempt
ideas to get the shot, whether that is singing out loud in the middle of a field or
flinging my hair around. Of course a good photographer is seeing the shot potential
and they can nudge you just a little to get 'the' shot. The cover for Bourbon Street
is a good example, the shot before which was straight to camera said nothing, but
the next one where I look over my own shoulder nailed it. It became the Cover Shot
and I still love it, even though I have seen it hundreds of times!
Boo: You have a large band! How did you find them all? And is it difficult
finding time to rehearse together, or to come together for a publicity
photo shoot?
Malaya: I cheated a little! The band had already formed but I only had contact with the
pianist. When I told him I needed a band he put them forward and they were great!
It was very organic and I am very lucky! The rehearsals can be tricky as everyone
works full time and yet they commit and turn up and rehearse happily and we all
love it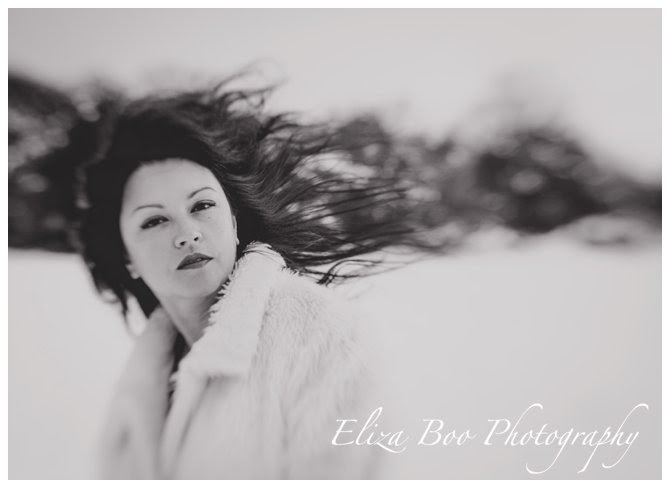 Boo: My favourite photo of you that I have taken comes from the first
promotional photo shoot we did together. Which is your favourite photo
from either shoot and why?
Malaya: This is a tough one, as the photos you take are so stunning and capture me so well.
As much as I love the cover shot for Bourbon Street I have to say it is the close up
that we took in the snow. It captures every aspect of me, I think it is a very personal
photograph and I know my fans love its intimacy and delicate nature. Of course I
imagine myself, when I'm old and grey, telling the grandchildren that I went out
in the snow, naked, in high heels and a coat hahha, maybe that's why the photo is
good, you can see two things in my eyes, you and a twinkle !
Boo: Did you make the decision on which photo to use for your album cover or
is it only the record label (producer)? Who makes that decision?
Malaya: I was able to choose it myself and there was no resistance, it looked like a cover
shot the minute we saw it. An important aspect of choosing the cover shot is that it
works reduced for thumb nails eg. iTunes and also blown up for posters. This shot
works brilliantly at both and is instantly identifiable.
Boo: You've got some fab tour dates lined up – I was thrilled to be able to see
you performing live at the first of the new season's live performances.
How different is it singing live to recording in a studio?
Malaya: We have had a busy summer with performances and rehearsals and it has been
great. It is very different to working in the studio. The live environment is more chaotic,
energised, unpredictable, fun, crazy. In the studio I work on every last detail of
what I record and of course the environment is unforgivable. There is no room for
mistakes. Performing live feels like I'm at a party.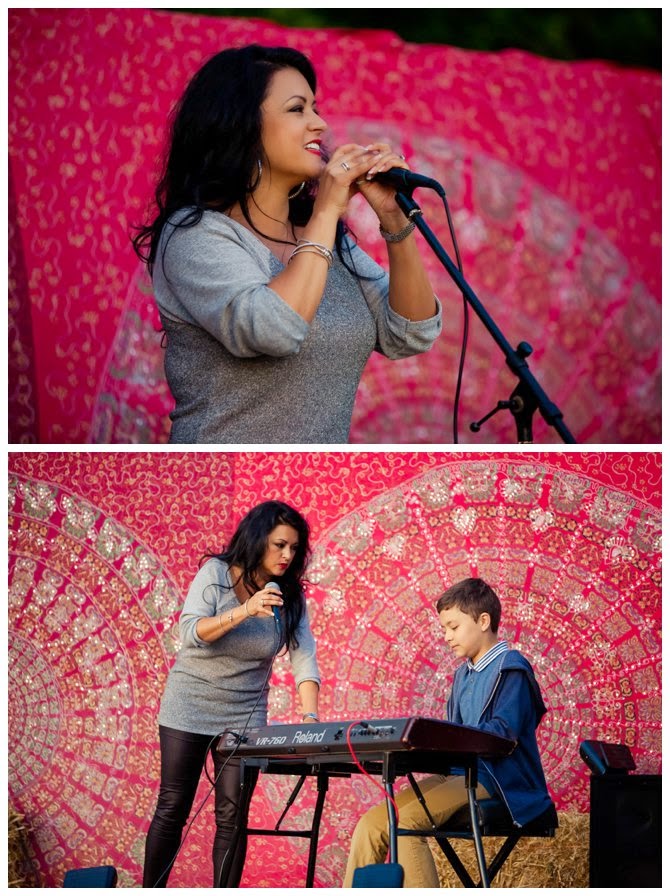 Copyright Todd & Moore

Boo: I can't wait for the next photo shoot! It's always a particular pleasure to
see my photos 'go public' – and on a CD cover – well! Can you tell us what
type of look you're hoping for on next cover – and anything about the
songs?!
Malaya: Well, I am wanting to get a little bit down and dirty ( although I haven't told the
producer)! After the success of Bourbon Street, I feel that I shouldn't play so safe and
that I should let a little of my darker side out! I am thinking about a dusky and
dark cover with the signature red in there.. you will be my guide !
Xxx
Treat yourself now by listening to some of Malaya's great tracks!
CD available from:
iTunes – digital
or Hard Copy from http://www.madearsproductions.com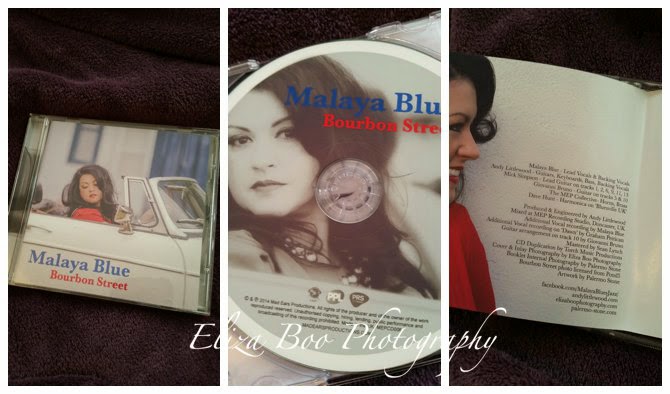 My 1st music album credit!