In between the weddings and parties that are work, I managed to find time to wander through last Sunday's Norwich Lane's Summer Fayre – for those of you who don't know Norwich, the Lanes are, as the name suggests, lots of the older lanes in the city with wonderful independent shops and eating places and a fabulous arts centre. It's lovely on any day to stroll through seeing things that aren't available elsewhere, marvelling at the creativity and care that artists of all kinds put into their creations. Even the pubs are not like those elsewhere – The Birdcage for instance, always has colourful jars of sweets and cookies on offer, or creative evenings or evenings filled with music and dance. My favourite wool shop is now located in the Lanes – which makes a visit even more lovely!
Sunday was day of colour and delicious smells, of people in amazing outfits, of activities galore. Even the City Hall and the building that once housed Norwich's jail were decorated – rather strangely – but it was fun to see. In this city where everyone seems to be linked to everyone else, it was no surprise to bump into old friends – a truly relaxing and fun day – with my camera in hand to record!
This is a Sisterhood post, so please click on Isabelle to go to the next blog in the circle!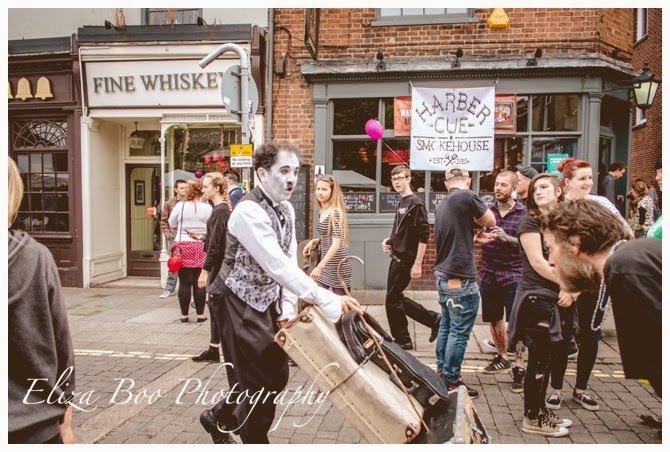 Oooo! I've photographed this chap at a birthday party before!